15.10.2019 – 16.10.2019
15 & 16 October 2019 19:00-20:00
Osage, 4/F 20 Hing Yip Street, Kwun Tong
Eugene Birman, composer
Justin Siu, cello
Kawai Chan, piano
The performer and the performed;
the pianist and the piano.
Every year, tens of thousands of degrees are awarded to young musicians all over the world. They play their Chopin, they bow, they move on. Their link to their instrument is incidental: to create sound, you need to play something. But aside from that functional relationship, aside from that quid pro quo, the instrument is really just an instrument. It is not playing; it's all a one-way street.
Osage presents BIONICPIANO – in approximately one hour, and perhaps even less, two evenings will explore the lines of classical music that performers are least compelled to cross. It's the line where we become the instrument, where the instrument becomes us. The Hong Kong premiere of RUMOR by EUGENE BIRMAN for violoncello and piano, as well as the world premiere of its solo piano version, will be presented alongside the composer's D Major Preludes, which take and transcend material from famous piano music of the 19th and 20th century by Chopin, Rachmaninov, and others.
Presented as an installation, not a traditional concert, audiences will experience a fusion of performer and performed, where one must play oneself as much as the piano, where the sound of the piano is as likely to come from ourselves as it is from the instrument, and where the human voice, whether it whistles, sings, or screams, is just an extension of the keyboard.
KAWAI CHAN, virtuoso pianist, joined by JUSTIN SIU, a jazz contrabassist who on this occasion will take on the cello, will bring to life this music of extremism and extreme expression. BIONICPIANO asks not only how far the demands on a performer can really reach, but how far is the performer him/herself willing to go to become the instrument. If the ultimate aim of technology is to merge the human with the human-created, then surely it's the moment our own artistic selves become one with the strings, keys, and hammers that transcends performance, renders us bionic.
Described as "electrifying and earth-shaking" (Eesti kultuurileht SIRP) and music "of high drama" (BBC World TV), BIONICPIANO is the first portrait presentation of Eugene Birman's music in Hong Kong.
More information: www.hkact.hk/act8
Presented by
Osage Art Foundation
Supported by
Tom Lee Music
Enquiries : 
Belle Leung (Osage Hong Kong) 
+852  2389 8332| belleleung@oaf.cc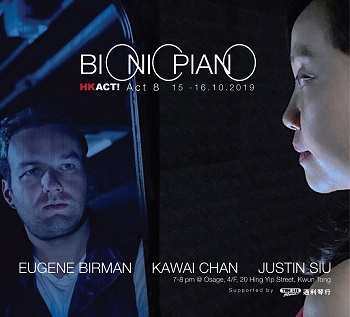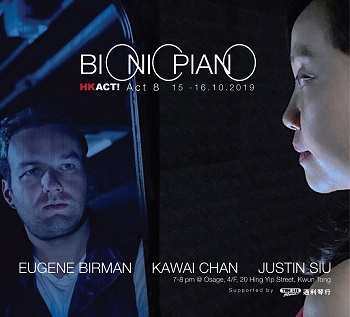 HKACT! Act 8 BIONICPIANO by Eugene Birman, Kawai Chan and Justin Siu
HKACT! Act 8 BIONICPIANO by Eugene Birman, Kawai Chan and Justin Siu